10 Amazing Hibiscus Varieties Pictures
Hibiscus is a flowering shrub that usually grows in warm tropical climates. There are about 200 species of plants that belong to the mallow family, Malvaceae. The characteristics of the flowers are large and resemble a trumpet. The flower pistils protrude from the flower horns which makes it look charming and unique.
While the leaves seem to spread from the leaf stem. Hibiscus has a variety of colors such as white, purple, red to yellow. Although it looks sturdy, this flower can only last one day after being picked. Chances are it can last even longer if stored in the refrigerator.
Because of its stunningly beautiful shape, hibiscus flowers are often used as decorations or yard beauty addition. Since thousands of years ago, this flower has been used by the world community for their daily needs. In the days of Ancient Egyptian culture, Pharaohs often consumed hibiscus tea when attending royal weddings. While in India, hibiscus flowers are usually used as a flower offering to Goddess Kali and Lord Ganesha. And in some countries, such as in Indonesia, this flower is often used as an ingredient for hair care and also traditional medicine.
Types of Hibiscus
Given the number of species scattered in various parts of the world, hibiscus flowers are grouped into three main types, namely:
This hibiscus belongs to the Malvaceae family and comes from Hawaii. Its special characteristics lie in the leaves that look shiny, blooming and bright and the flower colors vary.
Perennial because most of this type of hibiscus flower lives in the winter and then blooms again in the spring. Perennial hibiscus tolerant to cold weather but some of them can not survive less than 5 hours in temperatures below 28 degrees.
Hardy (strong). Hibiscus which is included in the Mallow family is the largest type of hibiscus. The width of the flowers can reach 20 cm and is available in various colors including white, pink and red. Similar to perennial hibiscus flowers, this flower can survive in fairly cold weather until frost kills the last bud and comes back to life in spring. Hardy hibiscus can not survive the hot and humid summer.
After knowing the 3 main types, now we move on to 10 beautiful hibiscus variants.
Chinese Rose
China Rose is known as a blackening plant because this species in the tropics is used as a shoe polish material. This hibiscus tree is a popular shrub in the Asian region. It can reach 4.5 to 7.6 meters in height and can survive winter frosts.
While the flower parts that generally bloom in single or double petals are oval in shape with a length range of 7 to 10 cm. Usually China Rose flowers are red but some varieties come in shades of yellow, pink and orange.
Rock Hibiscus

The hibiscus flower, which is often called Rock Hibiscus, has the Latin name Hibiscus denudatus and comes from Mexico and the United States. Nicknamed Rock Hibiscus because the flowers of this shrub plant can live attached to rocky areas and can survive at an altitude of more than 609 meters.
This hibiscus leaf is very rare, if there is it will appear gray and triangular. While the flowers have color variations ranging from white, dark purple to pink with 5 petals and each 12 cm in diameter.
Hibiscus Trionum
The hibiscus flower, dubbed the 'one hour flower', has the Latin name Hibiscus trionum and can grow as high as 1.2 meters. This beautiful flower which is generally cream and yellow in color is often used to beautify the garden and for decoration purposes.
Roselle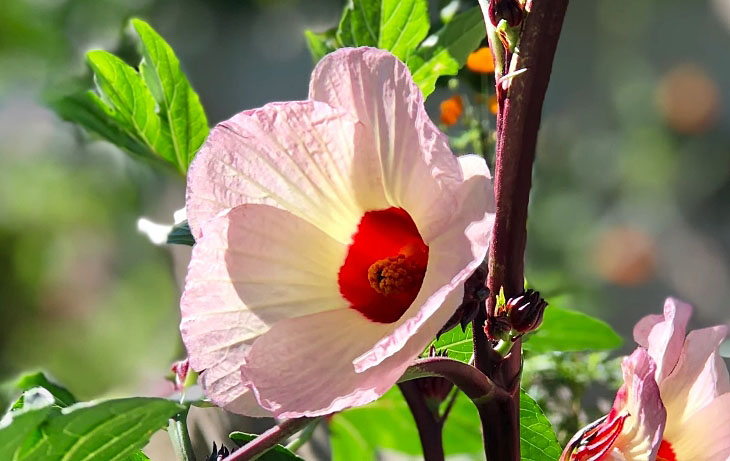 This flower, also known as the Indian Roselle, has solitary yellow flowers and no flower stalks sticking out. This hibiscus is an annual or perennial shrub that grows 2 – 2.5 meters in height. The leaves have three to five grooves 7 to 15 cm long. While the flowers are 10 cm in diameter and white to pale yellow.
Rose in Sharon
Rose in Sharon is the nickname of Hibiscus syriacus. This hibiscus is a hardy shrub, easy to grow and able to bloom for a long time, from late summer to mid-autumn.
This hibiscus flower is commonly found in the South Korean region. The beautiful flowers are shades of white, purple and violet with petals between 7-15 cm long. This plant tree can grow up to 1.5 to 4.5 meters with oval leaves with sharp teeth and dark color. Generally, this hibiscus flower will bloom perfectly if cared for and cultivated properly. Meanwhile, if allowed to grow in the wild, the flowers will look smaller.
Abelmosk/ Musk Mallow HIbiscus
This flower originating from India has many nicknames, ranging from 'Musk Mallow', 'Kesturi' to 'Musk Seedlings'. Interestingly, in the country of origin, Abelmosk is used by local residents for many things, starting from a mixture of musk perfume ingredients, a mixture of coffee (seeds) and its shoots, which are processed and consumed as delicious vegetables.
Giant Rose Mallow
This hibiscus, which resembles Hibiscus moscheutos, has wider, smooth and copper-colored leaves and a fairly tall tree. The flowers are predominantly pink, although some are white with a dark red core.
Giant Rose Mallow flowers can bloom in succession from mid-summer to fall. This beautiful flower likes moist soil with sufficient sunlight.
Rose Mallow
Rose Mallow is a colorful hibiscus flower with the Latin name Hibiscus moscheutos. This perennial shrub plant can grow up to 7 meters high. The color of the flowers is dominated by pink which with age will be more concentrated. The hibiscus flower which is also often dubbed 'marsh mallow marsh flower' or 'marsh mallow rose flower' can be found in areas with cool weather and generally blooms in summer.
Checkered Hibiscus
Hibiscus leaves from the Malvaceae family are dark green and look shiny. While the flower colors are quite diverse, including pink, dark red, white and cream. The diameter of the flower is about 10 cm and looks very beautiful when it blooms. In order to bloom fully, this hibiscus needs good dry soil.
Hawaiian Hibiscus
The Hawaiian hibiscus includes seven species of hibiscus native to Hawaii. The petals are large and brightly colored. This type of hibiscus grows very fast and lasts for a longer time than other types of hibiscus.