Between Calla Lily and Canna Lily Leaf
Calla lilies (Zantedeschia spp.) and Canna lilies (Canna Spp.) have some similarities. Two of them are popular for their full and pretty summer blooms. Even though they share similar names, they are actually different and each of them has its own uniqueness.
For those who are interested in growing one of them and are having a hard time on deciding which one to grow, here are some similarities and some differences of Calla Lily and Canna Lily and the information includes the leaf.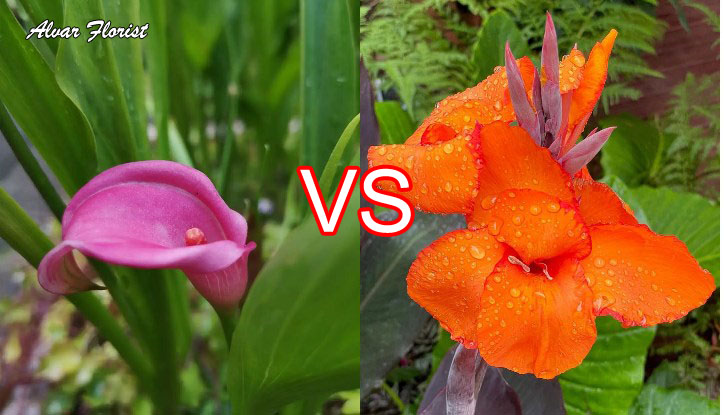 Identification:
Calla lilies are originally from the wetlands in southern and eastern Africa. They are winter hardy in USDA zones 9 and 10. The white variation called Zantedeschia aethiopica is slightly harder compared to the other variations. This one grows in USDA zones 8 through 10. It is apparently from South Africa and Lesotho. In these countries, this plant is considered a weed.
Meanwhile, Canna lilies grow from rhizomes. This one is known to be perennial in United States Department of Agriculture plant hardiness zones 7 through 10. They are originally from subtropical and tropical areas.
Read more: How to Plant and Care Canna Lily Flower Well
Size and leaves: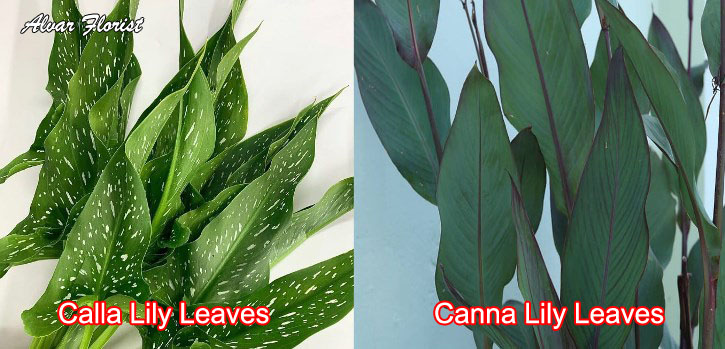 Calla lilies are generally more restrained compared to Canna lilies, growing to only 2 or 3 feet with a 2 foot spread. Meanwhile, Canna lilies can grow anywhere between 1 ½ and 8 feet tall with a spread for a maximum of 6 feet. When it comes to the appearance, Calla lilies and Canna lilies do look alike. These two are long and wide, and one of its ends is pointed. Another similarity is that both of them are glossy. One of the differences is that Calla lilies have leaves with the shape of an arrow while the leaves of Canna lilies have a shape like a paddle. Another difference is that Calla lily leaves come only in green, while Calla lily leaves are more variative, ranging from dark green, purple, to bronze.
Bloom:
Both Calla lilies and Canna lilies have pretty blooms that are perfect for summer. Calla lilies come in red, white, yellow or pinkish-purple blooms. As for Canna lilies, they have pink, red, orange, yellow, white and red with yellow stripes. Actually, when it comes to the colors, it is not always the case as everything depends on the species.
Calla lilies have tiny form flowers and they form along the yellow center spadix and are surrounded by the spathe, which are also known as the modified leaf, the ones that most people think of as the bloom. On the other hand, the flowers of Canna lilies form on the spikes at the top of the plant.
When it comes to the bloom time, they are different. Calla lilies usually bloom in early summer, while Canna lilies bloom between midsummer and late summer.
Water tolerance:
Both Calla lilies and Canna lilies are able to grow in the water. Every Calla lily is good in a foot or less of water. The only Cannas that do well underwater are aquatic Cannas. These types of Canna lilies, including the water one (Canna glauca) and the Longwood that are born from the process hybridizing it with the land growing cannas, are known to be winter hardy to USDA zones 7 through 10. They all will grow 8 or less than 8 inches of water. The Calla lilies are able to be planted directly in the mud, while Canna lilies are better to be planted in the submerged pots.
Some people prefer Calla lily over Canna lily. If you also love Callas more, you might want to purchase the bulbs from an online store called EdenBrothers.com. Here are some available products:
Calla Lily Bulbs – Mixed
Unit price: $34.95
Savings: –
Unit price: $63.95
Savings: 9%
Unit price: $63.95 ($5.60 per each)
Savings: 20%
Calla Lily Bulbs – Pastel Mix
Unit price: $40.95
Savings: –
Unit price: $74.95
Savings: 8%
Unit price: $139.95 ($7.00 per each)
Savings: 15%
Calla Lily Bulbs – Black and White Mix
Unit price: $29.95
Savings: –
Unit price: $54.95
Savings: 8%
Unit price: $119.95 ($6.00 per each)
Savings: 20%
Calla Lily Bulbs – Hot Mix
Unit price: $42.95
Savings: –
Unit price: $78.95
Savings: 8%
Unit price: $154.95 ($7.75 per each)
Savings: 10%
Calla Lily Bulbs – Purple Mix
Unit price: $34.95
Savings: –
Unit price: $64.95
Savings: 10%
Unit price: $144.95 ($7.25 per each)
Savings: 17%
Calla Lily Bulbs – Yellow and White Mix
Unit price: $29.95
Savings: –
Unit price: $54.95
Savings: 8%
Unit price: $119.95 ($6.00 per each)
Savings: 20%
Calla Lily Bulbs – Aethiopica
Unit price: $29.95
Savings: –
Unit price: $54.95
Savings: 8%
Unit price: $124.95 ($12.50 per each)
Savings: 17%
Calla Lily Bulbs – Bridal Bouquet
Unit price: $38.95
Savings: –
Unit price: $104.95
Savings: 10%
Unit price: $160.95 ($8.05 per each)
Savings: 17%
Calla Lily Bulbs – Captain Ventura
Unit price: $19.95
Savings: –
Unit price: $36.95
Savings: 7%
Unit price: $82.95
Savings: 17%
Calla Lily Bulbs – Flame
Unit price: $19.95
Savings: –
Unit price: $36.95
Savings: 7%
Unit price: $85.95 ($8.60 per each)
Savings: 14%
Calla Lily Bulbs – Morning Sun
Unit price: $19.95
Savings: –
Unit price: $36.95
Savings: 7%
Unit price: $85.95 ($8.60 per each)
Savings: 14%
Calla Lily Bulbs – Picasso
Unit price: $19.95
Savings: –
Unit price: $36.95
Savings: 7%
Unit price: $84.95 ($8.50 per each)
Savings: 15%