Caladium Propagation Easy Ways
Caladium is a plant with the same Araceae family with Alocasia Frydek, Alocasia Odora. it's just that for Caladium they have several different colors as follows:
White Christmas Caladium with its distinctive color, which is white with a green stalk
Caladium Monlight in plain white
Caladium Ace of Heart with a combination of green edges and a pink
Caladium Tricolor with green base combination color with dusty pink and dark pink spots
Caladium Miss Buffet with a beautiful base color that is lemon green and has red spots with red leaf bones too And many more Caladium colors that so attractive.
In addition, this ornamental plant is a plant that is rarely affected by pests if there are treated properly. For Caladium lovers, you can have them at home as plants that add to the beauty of every corner of the house to make it look fresher and more beautiful. Then how do you reproduce them easily?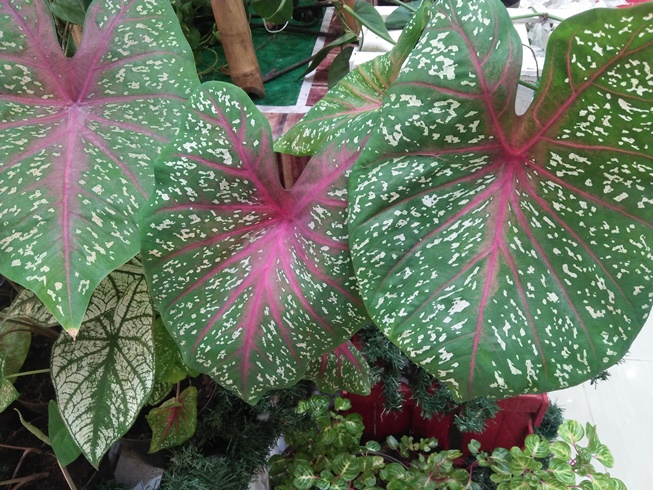 Here are 4 easy steps to reproduce Caladium ornamental plants:
1. Separating Caladium or rhizomes
If taro plants and thrive with lots of tillers, you can get more of them by making several parts so that in the new container they can reproduce more and more.
2. With tubers
Commonly if the leaves of Caladium that has already grow big they will have already big tubers too, you can reproduce them by using the tubers as picture above:
Prepare the tubers to be reproduced, then wash them clean.
Split it into several parts. As big they cutted you will get big the Caladium growth as the result but if you cut the tubers small, the shoots that come out will be small.
After cutting, prepare a container for planting the tubers.
Give 1/3 of the soil from the size of the container then place the pieces of the tuber and cover again with soil about 2cm from the tubers.
Give them water using by using a sprayer.
They will started to grow after 3 weeks like this picture below.
3. By seeds
To multiply Caladium by seedling, one thing to pay attention to it that the seeds must be of good quality so they don't fail to grow. Make sure the seeds are ripe with the characteristic orange or red color. Also use planting media with soil that has good nutrition and is rich.
So for you plant lover, it is easy plant, is not it? So you don't need to spend a lot of money to multiply this Caladium green plant. Only with the tips above you can reproduce them and make the dwelling even more colorful.
But sometimes Caladium is often attacked by pests that you have to watch out for so as not to damage its growth.
Commonly these are the pests on Caladium:
Get rid of this pest by using garlic.
keep the moisture of the soil so that you will avoid from fungi/fungal affection.
Aphidsand are one of the pests that often appear on Caladium. Do not allow them stay by get rid of them using insecticides or environmentally friendly pesticides taht available at home.
More info: Get Rid Caterpillar with Home Remedy
May this helps and happy planting guys!