Iris Flower Growing and Care Tips
Iris flower is beautiful flowers and also has a nice aroma. The beautiful Iris also has color variants, there are:
Iris with yellow flowers
Iris with purple flowers
Iris with white flowers
Iris with red flowers
Iris with blue flowers and many more.
Apart from the beauty of the flower, Iris is very easy to cultivate by many people. Even the gardener prefer this flower to be cultivated because it is considered to have advantages over other flowers such as not requiring intense care after planting.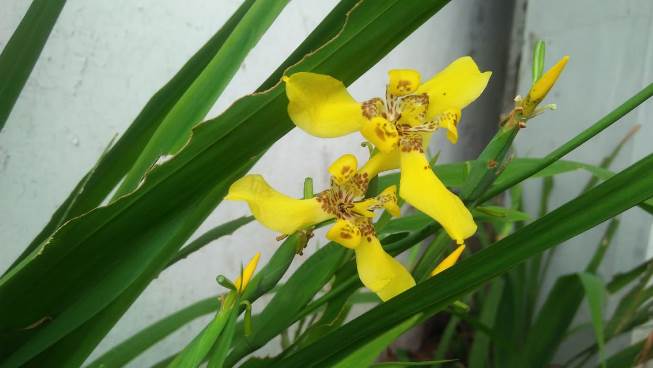 It will still having flower even though it is not given special care because it could survive in any condition of the weather. This Iris can be used as a plant to decorate your home, whether in a pot, garden or in a balcon.
Can Iris survive indoors?
Actually, Irises can be placed indoors but it might make you inconvenient because Irises need direct sunlight for their proper growth. At least get a light supply of about 6 hours in a day.
So the conclusion, it's better to place your Irises outdoor where the direct sunlight is exposure.
Can Iris plant from seeds?
Yes you can, but usually it will take times and if u did not choose the seed that has good quality it may die. It is better to plant from rhizomes beside of easier it will not take times as planting from seeds and has low maintenance as well.
Then what are the steps for planting Irises?
Prepare soil that is porous and has plenty of nutrients to encourage its growth. You can use compost either from rotten leaves or goat manure and also provide additional rice husks which have the following benefits:
Rice husks are able to maintain soil dam nutrients
Soil PH may increase
Circulation in the soil can be maintained
Keep the soil moist
Prevents soil density so that the soil will remain loose
You can use a mixture of soil, compost, and husk in a 2: 1: 1 ratio. Iris flowers are best planted in late summer due to sunlight will help to grow the roots and help them survive in winter.
Water the Iris twice in a day, in the morning and evening with a sufficient amount of water so that the moisture of the roots or rhizomes is maintained and prevented from rotting. This watering technique is needed at the beginning of planting, but after the Iris has grow, you can water it when the soil is nearly dry.
Exposure to direct sunlight is perfect for growing Irises to flower quickly.
You only need to fertilize these Irises once a year.
The important thing you need to know when the Iris flowers
In order to increase the growth cycle of the blooming flower, when the Iris flowers blooms, usually the leaves and stalks will be wither, this is the best time to cut them off so that other fresh leaves will not be infected.
May this helps, and happy planting!