Monstera Borsigiana Albo Variegata versus Thai Constellation
Both variegation results, having a combination between white and green leaves, you might be a little confused about how to distinguish Monstera Borsigiana Albo Variegata vs Thai Constellation. However, both present unique and beautiful leaves that make a lot of people fall in love with it.
In fact,  they are different especially in case of taking care of them. At first glance it may look the same, but there are several things you can observe to differentiate it. So, let's see the difference on our post below!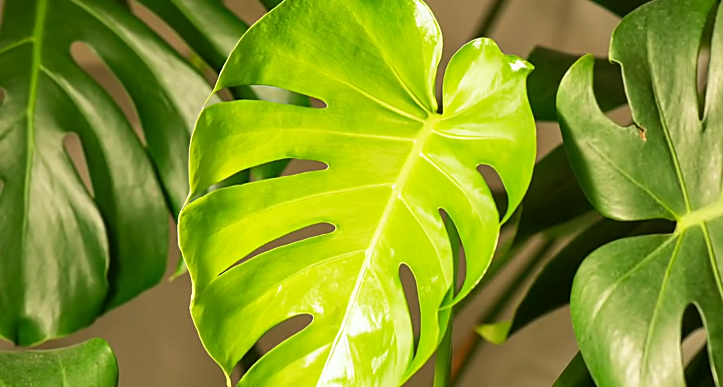 Monstera Borsigiana Albo Variegata
Monstera Borsigiana Albo Variegata is incredibly elusive, rare and much sought after as one of the Monstera variety. As we know that Monstera produces attractive variegated leaves marbled with white colouring. The Monstera Borsigiana is a somewhat smaller and more manageable variety than the Monstera deliciosa.
However, this variety is highly recommended for indoor growing. As an inviting houseplant, this variety has a spreading/ climbing habit which is easy to grow and commonly low maintenance.
Monstera Borsigiana Albo Variegata has a huge leaf with stunning specimens flaunting amazing chunks of the white variegation and green marbling. Not only on its leaf, the white variegation and green marbling is also on its stem as well.
This Monstera variety has a large amount of roofs which have transitioned well from spag moss to a well draining blend (5:1:1 – Pine Back: Perlite: Peat Moss). Although it grows slower, this plant has great potential to continue in producing the beautiful and attractive leaves. If one of the wax seals on one side of the stem has fallen off, this Monstera variety will be fine at all.
Monstera Borsigiana Albo Variegata really needs humidity which is ideally about 67%-70%. In case of humidity, we here talk about the air humidity, not soil moisture. Not misting leaves is primarily important for young Monstera Borsigiana Albo Variegata. Well, if your room does not have enough humidity, the only way that you should do is to group plenty of plants in one area or planting them in a larger pot with other aroids.
The point is the humidifier is highly recommended to keep moist the Monstera Borsigiana Albo during the warmer month periods and commonly drier during the winter cooler months. Need to know the leaves with a lot of variegation really need protection from sunlight. When this plant is growing actively during the warmer months, it will need a lot more water and food. Of course, giving them fertilizer in the form of pellets or a liquid can be the greatest option for you to do.
Monstera Borsigiana Albo is highly sensitive to water and prone to rot. The most important thing that you should notice is to give the potting mix in very light, allowing air to reach the roots. You should keep away this plant from peat based commercial potting mix which is particularly if the root system of Monstera Borsigiana Albo is underdeveloped.
Here's for example of potting mix recipe of Monstera Borsigiana Albo Variegata:
One part coco coir: It's such a good light base for potting mix.
One part peat moss: It's such a reliable nutrition source.
One part diverticulite: It'll retain humidity.
One part coarse perlite: It'll keep potting mix from compressing.
0.5 part sphagnum moss: It'll retain humidity and add acidity.
From this clue, we'll know that the roots will stay wet and will not get enough oxygen. However, if you are lucky, your plant mostly white leaves will perish and rot.
The Monstera Borsigiana Albo really needs good exposure to grow lights, morning sun or bring natural light. However, this plant  have to photosynthesize to survive, so make sure to place it in a bright light spot.
Monstera Thai Constellation
Monstera Thai Constellation is the premium hipster plant according to the Australian New Daily Blog. Monstera Thai Constellation is also known as Variegated Monstera belongs to the tropical plant empire. This variety of Monstera is an incredibly engineered Variegated Monstera Deliciosa which is grown from tissue culture in Thailand.
More info: The Difference Between Monstera Deliciosa and Borsigiana Plant
This is a striking ornamental feature plant which is so perfect for indoors and outdoors. Monstera Thai Constellation is a variegated form of the ever popular, worth and hardy salad plant. The burst of white variegation over the glossy green leaves which resembles stars, making this unique plant a joy to have.
When the leaves mature and take on the usual segmented Monstera form, the white markings will become more prominent. The Monstera Thai Constellation gets its name from the attractive variegated leaves marbled with splashes of creamy-yellow colouring. This cultivar has been developed in the laboratory in Thailand from the species Monstera Deliciosa which is termed variegated as the leaves not entirely green.
Which makes the Monstera Thai Constellation more gorgeous is from the pattern which is small sections scattered across the leaves, reminds us of stars in the galaxy, hence the cosmic name.
The Monstera Thai Constellation has large, heart-shaped leaves which get splits and eventually holes. As we know that Monstera Deliciosa where the Thai Constellation comes from really has holes in its leaves and tends to be larger. Another characteristic is that the stalk generally has a kind of serration or small protrusions. The Deliciosa refers to the fruits which are so delicious to eat.
Monstera Deliciosa is pretty rare to be a common plant as this plant is quite rare to see in the wild. This type of Monstera was only described in 1840 by the Danish botanist Liebman when he found the species in Mexico.
Monstera Thai Constellation cannot be placed near vents or drafts because the plant will not enjoy dry weather conditions. In this case, this plant prefers humid weather which results in a faster growth rate.
The Monstera Thai Constellation really needs moist soil with high organic nutrients and matter. To plant this Monstera variety, you should choose a peat-based soil mix which is light and airy in order to reduce the chances of overwatering the plant especially in cold months. However, the potting mix has to consist of the right amount of bark and perlite to aid in draining.
Well, this tropical plant really needs soil with a pH of 5 to 7.5. Otherwise, if the compost is too dry, of course the leaves will start  turning brown. The point is, the soil must be kept in summer months and slightly dry in winter months.
The Monstera Thai Constellation needs a bright area or room. But it should never be put in direct sunlight because it will damage the leaves. The temperature of this  plant is between 64o F – 70o F (18 to 21 degrees Celsius.