Nemophila Insignis Common Name
The common name of nemophila menziesii subsp. insignis is baby blue eyes. For those who want to know everything about nemophila menziesii subsp. Insignis or baby blue eyes, here is everything that you will have to know.
Baby blue eyes information:
Flower Name: Baby blue eyes
Formal or Scientific Name: Nemophila menziesii subsp. insignis
Alias: Baby blue eyes, insignis blue, nemophila menzeiesii
Habitat: Western California, North America
Morph: Hardy Annual grass
Bloom Period and Seasonal Colors: Blue flowers bloom in early spring
Mature Height x Spread: 6 inches x 12 inches
Added Benefits: Drought tolerant, attracts beneficials
Sun Requirements: Sun, part sun, part shade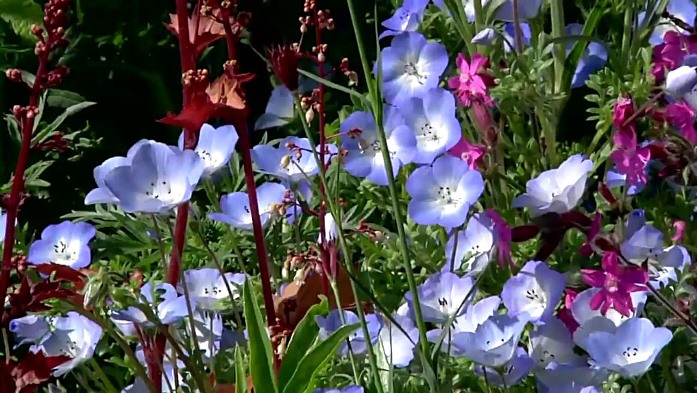 Nemophila menziesii subsp. Insignis or baby blue eyes are like a wave of true blue color in early spring. People in California call it a wildflower, that's why it is a rather drought tolerant plant compared to most natives. As for in the Midwest, this one is usually used as a spring annual.
Baby blue eyes look really charming with white eyes all over the leaves that look like fern everyone who sees it can fall for it easily. You can grow this plant from the seed easily. It is totally perfect for rock garden addition, can grow well in hanging baskets and containers, and is such an amazing filter in the spring bulb garden.
The tiny flower called baby blue eyes is loved by every Victorian. They sow the seed in early spring and do it again in early fall for a delightful rebloom. In fact, some people really fall for it while they are on a hillside where the heads of the flower sway and dance in the wind.
When, where, and how to plant baby blue eyes?
In order to plant baby blue eyes, the first thing that you will have to do is to sow the seeds directly in soil in spring to early summer after temperatures consistently reach at least 68 degrees. They are so good in cool weather and you can also sow them in fall. Bothering the roots of this plant will slow down the growth cycle, meaning transplanting full size plants is not always a good option. Even though this sweet little flower loves direct sunlight, once the heat comes out the plants will wilt, so you are recommended to plant in part sun or maybe in a place where the plant will have shade in the heat of the late day. You can also grow the baby blue eyes on light sandy soils, but the best one is soil enriched with manure or compost that is well drained.
Trips to grow baby blue eyes
Nemophila is attracted to sunlight, but it is not good for leaves, so partial sun is the best one to make sure that the plant is healthy so that it can grow well. If you have a limited sunlight, you can try a place that has a lot of afternoon shade. For your information, afternoon is the time when the sun is in the hottest condition and the leaves of the plant can become burnt.
Nemophila tends to grow in enriched soil that is made from a mix of compost and sandy soil. There will be no issues growing in most kinds of soil, but they have to get the soil with good drainage so that the water will not be held at the roots.
Fertilizer is not that important to improve the growth of this plant, but you might need it to help the plant to grow more.
The perfect way to start growing nemophila is to start from a seed. This plant is the one that grows the best in places that have warmer temperatures, so you are not recommended to try to plant the seeds until the temperature gets about 68 degree Fahrenheit.
Damaging the roots of the adult version of nemophila can distress the roots of the plant. For those who are transplanting an adult plant, do not forget to take additional care of the roots. There are a lot of cases where transplanting nemophila can cause it to die. However, in case you end up losing your plant, fortunately, it can be grown back from a seed in no time.
Advice and care
Deadheading can extend the power of the flower and it is also a good way to prevent extra self sowing. As snails love the baby seedlings, the effort that you can do is to set out the organic snail traps if you worry about it. The most common treats are aphids. You can treat them by squirting a strong blast of water from a garden hose or spraying the bugs with water that is full of soap. It is possible that the plants that are grown in shadier conditions are sensitive to powdery mildew. Fortunately, you can control the condition with a fungicide with OMRI certification. This one has the streptomyces lydicus bacteria.
Companion planting and design
As one of the flowers that grow in spring, baby blue eyes are a perfect match to something like yellow daffodils. When you plant it in a mixed bed with red tulips and white daffodils, it can create the American vibe with red, white, and blue design statements, which is definitely best for landscape design in public areas. If you put it with hyacinth, the gently nodding heads of baby blue eyes look about to spill over the edge of a container planting. If you seed it in large masses, baby blue eyes can look like a river of water due to its undulating movements and stunning blue color.
Some things to try
Nemophila menziesii atomaria can be described as a white type of nemophila menziesii that has black spots and sometimes there is a faint blue tint or blue veins in the corolla. The black one called nemophila menziesii "Penny Black" is a drop gorgeous white rimmed flower that has deep purple centers. They are such a deep velvety shade so they are seen as black in specific lights.