Nemophila Maculata Five Spot Flowers Care Tips
Nemophila Maculata or five spot windflowers look stunning and low maintenance annuals. Originally from California, they are able to be grown virtually anywhere in the United States and in any place with similar climates. If you want to know more about this plant, here is the complete information about one of the windflowers called nemophila maculata or five spots.
Nemophila maculata or five spots information:
Packet Size: 1.5gms
Average Seed Count: 325 seeds
Seed Form: Natural
Seeds per Gram: 130 seeds per gram
Family: Hydrophyllaceae
Genus: Nemophila
Species: Maculata
Cultivar: Five Spot
Common Name: Baby Eyes
Hardiness: Hardy Annual
Flowers: White petals, each with a deep blue spot at the tip
Natural Flower Time: Early to mid summer
Foliage: Mid green
Height: 10 to 15 cm (4 to 6 in)
Spread: 30 to 45 cm (13 to 15 in)
Position: Part shade preferred, will tolerate full sun
Aspect: West or south facing. Exposed or sheltered
Time to Show: Sow direct in late spring to early summer, or plant into pots in autumn
Germination: 7 to 21 days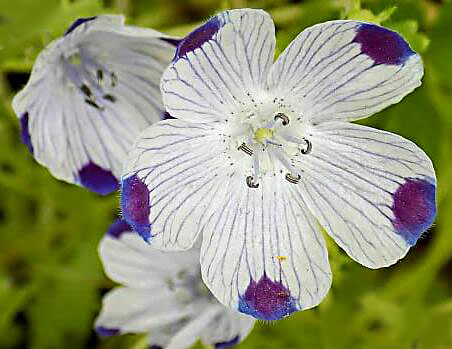 Nemophila malculata or five spots is one of the wildflowers. They are attractive with the white color dominating the flower and five spots at the edge (hence they are known as five spots). Even though they are originally from California, it is possible for you to grow them virtually anywhere in the United States and in the areas that share similar climates. They are valuable due to their prolific, striking flowers and their soft foliage that looks like fern.
Nemophila malculata or five spots have different names for their flowers: 1 inch wide or about 2.5 cm light blue or white blossoms of five petals, in which each of them has a deep purple spot. They cannot grow to more than 12 inches or 30.5 cm high and 8 inches or 20.5 cm wide. They also do not spread over the course during summer. They love cool climates more, germinating best when the soil temperatures reach 55 to 65 degree Fahrenheit or 13 to 18 degree Celsius. For those who have hot summers, do not lose hope. They should grow well as long as they are given a lot of shade.
Nemophila maculata or five spots are annuals. The moment that indicates they will die back is the first frost. If you allow them to flower and die back, they need to seed naturally, and the new ones should show up in the exact spot in the next spring. In addition, they bloom consistently and also impressively all spring along.
Tips for growing nemophila maculata or five spots
Learning how to grow nemophila maculata or five spots is as easy as learning how to take care of them. Due to the fact that they have compact size and strong blossoming, they are perfect for hanging baskets. A handful of seeds should be enough to bless your eyes in spring.
The good news is that nemophila maculata or five spots also grow well in the ground. They are so good at tolerating most kinds of soil with full sun to dappled shade. As they do not transplant well, you are recommended to direct sowing. In the beginning of spring, as the temperatures get warmer, you will need to sprinkle the seeds over the bare ground and after that, rake lightly to mix all of them with the soil. After doing everything, they do not need essentially care. The only thing they needed was regular watering.
Tips for spring:
The best one to sow the seeds is in short drills 12 mm or ½ inch deep once the temperatures reach around 20 degree Celsius or 68 degree Fahrenheit. A sunny open site is recommended but they will grow in most sites and soils. When they are about to flower, please sow them outdoors. Before sowing, keep in mind that you will need to prepare the ground well and rake to a fine tilth. If needed, you can mark the sowing places by using a right of light colored sand and name it if the sowing is more than annual in the same bed. Please sow 1.5 mm or 1/8th inch deep in rows 15 cm or 6 inches apart.
It will take about 7 to 21 days for the seeds to germinate. Apparently, the seedlings will show up in rows approximately 6 to 8 weeks after you plant them and you can tell it easily from nearby weak seedlings. Upon seeing them, you will need to thin the seedlings out so they can reach 23 cm or 9 inches apart by early summer. Do not forget to take care of the compost by making it moist, but not well at all times.
Tips for autumn:
If you sow the seeds in autumn outdoors, you will be provided earlier flowers and if you use a coldframe, they will produce spring flowering pot plants in the cold greenhouse. Firstly, you should sow the seeds in either pots or trays with moist seed compost and cover it with a really fine sprinkling or compost or vermiculite. When the sowing process ends, remember to not exclude light as it is good for germination. Take note to keep the surface of the compost moist but not logged by water. According to some sources, the germination will usually take 14 to 21 days at temperatures around 20 degree Celsius or 68 degree Fahrenheit.
Tips for cultivation:
It is better to use well drained soil with manure or compost before planting and you can grow it on light sandy soils. Actually, feeding is not that important, but you will need to water well and apply complete plant food as they will start to grow in the spring. You will also have to deadhead to prolong flowering. Another thing that you need to do is to leave a few plants to die down and self seed. As for the others, they can be pulled up and composted.