Picture of Begonia Leaves and Review
Nowadays having houseplants is one of common hobbies. Like pets, houseplants also need our care to keep them fresh and not easily wither then die. Basicly, caring houseplants is easy such as watering them regularly, give them fertilizer, place them in areas exposed to direct or indirect sunlight as the type of flower itself and so on. But one thing you need to know about plant care remains undertanding about the type of plant.
Houseplants have some several types. Starting from houseplants that only has beautiful leaves, or flower. In addition to being collected, houseplants can also be used to decorate of your home outdoors or indoors. Well, one of the houseplants that is gorgeous among houseplant lovers is begonia.
This begonia is from the genus of begoniaceae family that can be planted in pots or garden. In summer, apart from being very easy to grow, there are several types of begonias but they are widely grown in almost every region as annuals plant. There are begonias are grown for leaves color and begonias that grown for flowers. Well, for flowering begonias, they have an alluring flower color and are suitable for growing in tropics area. Because of this varieties, begonia decorative plants can be used as one of the most suitable plants to be used as plants that add to the beauty of the scenery around us. Apart from having an aesthetic appearance, this plant is also very easy to grow and care for but a little tough in winter.
Begonia leaves varieties
By seeing the patern and form of foliage so you can easily classifying begonia, here you are!
Tuberous Begonia
Tuberous Begonia is arguably one of the most beautiful variation of begonias compared to other begonia variants. With flower sizes ranging from 1cm. Due to its beautifully flower of this type most people love to plant this.
This begonia will grow again from soil tubers that stay dormant during cold climates (winter). So if tuberous begonia are exposed to freezing temperatures for extended periods, you don't need to worry, the portions of the plants that are above the ground will di. Mostly in spring new tubers will sprout after these begonias produce new tubers during the growing season then fall to the ground in autumn. Read also how to store begonias in winter easily.
Wax Begonia
This wax begonia is also known as semperflorens with leaves that look like they are coated in wax. You can easily spot these types of begonias because they usually form a pattern that is easily recognizable. The leaves are circular with flowers like red, white and pink. Most of the leaves are green and bronze.
Thick Stemmed Begonia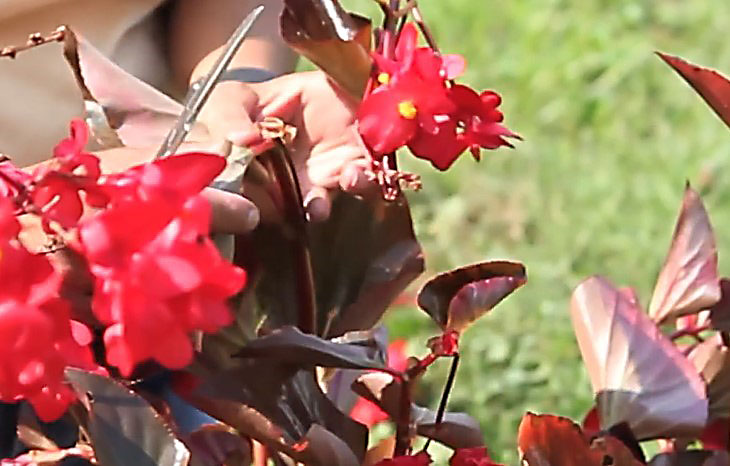 This begonia does not have branches like other plants, but this type can sprout directly from the ground. So, don't worry if the leaves look wilted because it's natural for this one type. They can recognized by thick, almost tree-like stems and many grow very tall and some as high as a house
Shrubs like Begonia
The variants of these begonia shrubs vary from small to sizes that can reach up to 4 meters with many shapes and forms. Usually, this flower looks shiny with the beauty of the fine hairs on the surface of the leaves.
Begonia shrubs will have white flowers on their leaves and green on their stalks. However, there are also leaves that are red or pink. Mostly leaves are often dark green but may have colored spots. In winter Humidity and bright light can increase the brightness of the leaves
Cane Begonia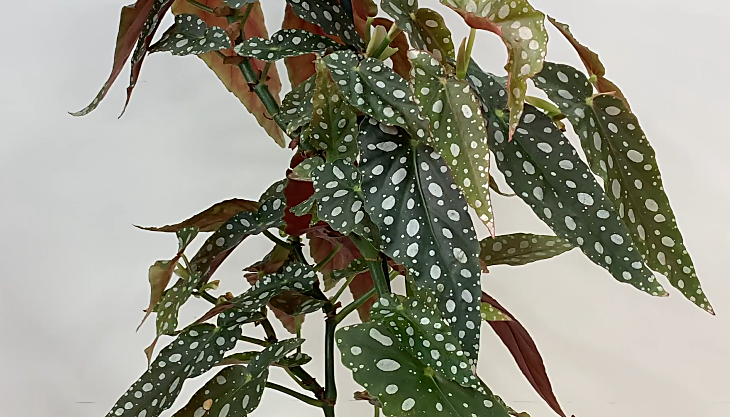 This cane begonia known as angel wing plant, because of its wing-like leaves. In addition, there is also begonia cane, whose flowers are large and smell good. The leaves of this begonia cane range in color from pink, purple, and white.
Rhizomatous Begonia
This rhizomatous begonia is also known as non-rex. With attractive leaves with large flowers and can cover the whole body. The leaves on this begonia are sensitive to water and there is a trick to care them when you give them water, you need to be watered from below. Don't let water will blister and discolor the leaves. And there is star begonias due to multi-pointed leaves. Leaves can vary in size from 2.5 cm to 0.3 m. This type of begonia has different leaf characteristics such as hairy, star or circle shape.
Rex Begonia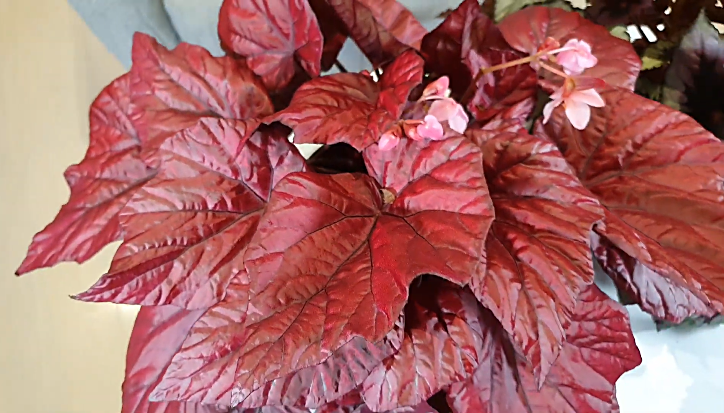 Rex begonia also known as painted leaf begonia, has many variations compared to other plants. The character of this rex begonia is its leaves which have many colors and shapes as well as many patterns and sizes.
Hardy Begonia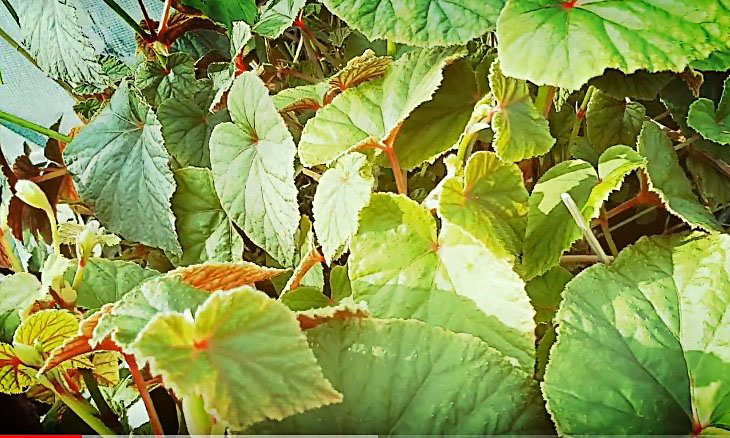 You can identify by its leaves that are shaped like hearts and have flowers hanging out of the branches. This plant will produce beautiful flowers in the mid to late dry season.
Here's some brief points on how to care for begonias:
Water this begonia plant twice a day, in morning and evening, then dry the leaves so that the surface remains shiny.
Place this begonia plant in a sunny area, but make sure to know what variant of begonia you are having because there is begonia that grow well in bright but away from direct sunlight.
Provide enough fertilizer for begonias to promote their grow.
If the begonia plant is attacked by pests, use natural ingredients to exterminate the pests or if necessary to spray with an appropriate pesticide.
Well, by reading the explanation above. Atleast it would help you to indentifying some begonias from their leaves. And if all of you who wants to make them thrive, it will be easy as long as you do well of caring.