Plant Daisy Flower and Put Them in a Vase
Daisy or better known by its family namely Asteraceae/ Aster is a flower that is easy to grow in the summer and it is spread in several countries such as Central America, South America, Australia, Indonesia, Italy etc although this flower is found in Mexico. This flower has a variety of colors ranging from red, pink, creamy white, and other colors with petals that look like sunflowers but with a small size. Usually Daisy have a height about 19 inches to 28 inches with a flower diameter of 2inches while the largest flower head is about 6inches. It's beautiful, is not it?
The beautiful Daisy is actually a plant that growing wild, but because of its beauty, it can be used as decoration in your home. Often we see it on the bouquet, in a vase or even can be planted in pots as another option to add the beauty of your room. This flower prefer in heat place and will thrive there so well.
To multiply this flower is very easy to do, just by sowing the seeds that are on the flowers when they dry out, or often sowing them above the soil surface, but in this way the Daisy will not grow regularly so it is better if planted regularly and there are flowers that will bloom later good and perfect.
If indeed you want to choose daisy as an decorative plant, it is better to do properly care because otherwise this plant will usually be susceptible to pests that will damage and reduce its aesthetic value.

Then how to grow Daisy as know as Asteraceae?
Daisy flower seedlings that have dried can be done just by laying them down above the ground, give them seed spacing so that later when they grow they will look beautiful, when they have trived it is better to cut them off them so that the growth of flower will good.
According to my experience although it has been growing thrives in the backyard, if it is moved into a pot it will wither and die. They do not like to be moved.
Give it a place that is exposed to direct sunlight, also provide fertilizer to add and keep the nutritional needs.
Watering can be done in morning and evening for maximum care of growth. Minimize to watering on the leaves to avoid some diseases.
Usually after sowing the seeds will start to grow small leaves in more than a week and will start to grow beautifully about a month or more.
Now, if it is grow well you can make it as a decoration in the house, especially when there are guests visiting your home, it will add a beautiful impression. For example, placed in a flower vase like the picture above.You are able to do the following ways: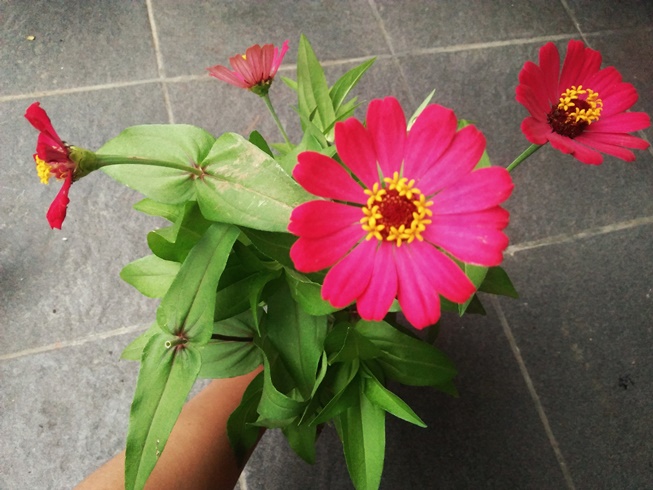 If there are a lot of Daisy flowers, you can pull them up from the roots with a beautiful flower selection or cut the stem about 3inches from the root surface using a sharp knife or scissors. Give different height of measurements.
Provide a vase like the example above and fill it by the water.
After that, remove the damaged leaves such as affected by pests or yellowing leaves, then fill and arrange the daisy flowers.
Finally, you can put the Daisy vase on the table, either the dining table, TV table or your living room.
Well that is what i know about how to care of Daisy flower, i wish will helps you. Happy planting!