How to Grow Hydrangeas Outdoors Easily
Hydrangeas display an old-fashioned charm in summertime which is hard to resist. Proper care will keep Hydrangeas blooming. Well, in this page, we are going to explain about how to grow Hydrangeas outdoors.
Tips for growing Hydrangeas outdoors
Here are some tips for growing Hydrangeas outdoors:
Hydrangeas are able to be grown outdoors wherever the winter temperature stays above 15ºC (5ºF). But, potted hydrangeas sold as the houseplants will have been produced in the greenhouses and fed to encourage them to flower early. Thus, they are going to need time to adjust to life outdoors before being planted out.
You are able to harden them off for one to two weeks before planting by placing Hydrangeas outside in their pots during the day and bringing them back inside at night. Hydrangeas grown for outdoor planting will be able to be planted out straight away. Need to know that the best time to plant Hydrangeas outdoors is in middle to late spring once the soil has had a chance to warm up.
Hydrangeas like moist, well-drained soil and have best with shelter from the hot afternoon sun. This becomes them ideal choices for shady gardens, and their round flower heads look stunning in middle and late summer. Do not forget to water hydrangeas regularly, especially in dry periods, and mulch with compost or other organic material in spring or autumn.
The flowers of pink and blue Hydrangeas have the unique ability to change color, depending on the pH (acidity or alkalinity) of the soil. The more acidic the earth is, the deeper blue will be the flowers. In alkaline soils, the flowers turn a beautiful pink. For note: White Hydrangeas do not change color.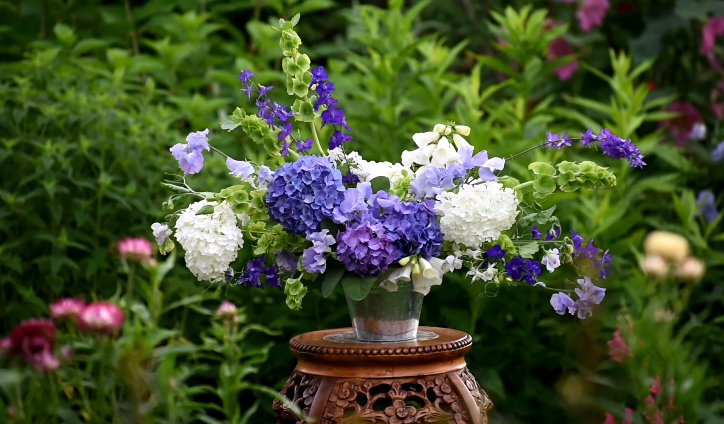 Common Questions About Growing Hydrangeas
Here are some common questions about growing Hydrangeas:
When do Hydrangea flowers bloom?
Usually, the Hydrangea blooming season depends on the type and cultivar as well as your planting zone. Most newly grown hydrangeas sprout in early summer to bloom in the following spring, summer, and early fall seasons . In hot climates, the Hydrangeas may stop blooming in summer, however will resume blooming in fall.
How do you cut back the Hydrangeas?
Actually, when the Hydrangea plants are given many growing space in the garden, they do not need pruning. All it takes is to occasionally remove deadwood.
Do you need to deadhead the Hydrangeas?
Deadheading Hydrangeas are going to keep your plants blooming into fall. So, you do not have to wait until the flower wilts. The Hydrangeas make excellent cut flowers. You are able to let those early fall flowers fade on their own. You do not want to encourage new growth close to your freeze date.
How do you control the Hydrangeas color?
Hydrangeas are unique in that you will be able to control their color. But you have to note, not all hydrangea types are capable of color adjustments. Bigleaf hydrangeas, macrophylla, react to changes in soil pH. In this case, a low soil pH offers Hydrangeas to absorb aluminum, that turns the flowers a beautiful blue color. For increasing blue Hydrangea flowers, you have to lower your soil pH by adding sulfur or peat moss to the soil. Also, you are able to add additional aluminum sulfate to your soil throughout the growing season. Red and pink plants will shine if you add ground limestone to boost the pH.
For your information, a soil pH test is able to help you accurately set your hydrangea color. You have to avoid pH levels above 7.5 to prevent damage to the flower. No matter what adjustments you have made, all Hydrangeas are going to fade in the fall naturally. You do not worry, they are going to showcase fresh, colorful blooms again in the spring.
Can Hydrangeas grow in the shade place?
We get information that Hydrangeas like dappled or occasional shade, however they will not bloom in heavy shade place. It is not much a question of do they prefer sun or shade, but rather more of a question of how much sun do Hydrangeas need. The further north your park is located, the more sunlight your hydrangeas need. Need to know that an average rule of thumb is 6 hours of sunlight per day. But, the Hydrangeas growing in the south are able to perform on only 3 hours of sunlight.
Can Hydrangeas grow in full sun?
As we know that the Hydrangeas like morning sun. However, they do not do well if they are in direct, hot afternoon sun. Partial shade in the later parts of the day is very ideal for these beauties.
Can you grow the Hydrangeas in pots?
Although you lack the space in your garden to grow Hydrangeas plant, knowing how to grow Hydrangea in a pot means you are still able to enjoy these beautiful blooms. The process is very simple, as long as you are able to follow the basics of hydrangea care. Please select a large enough pot for the mature size of your specific hydrangea at least 18 inches in diameter. Then, look for non-porous containers to help holding the consistent moisture level require by hydrangeas. Drainage holes will enable excess water to drain correctly. You have to consider planting dwarf hydrangeas, such as Mini Penny, Little Lime, and Buttons 'n Bows. For more information about growing hydrangea in pots you can read this: How to care for hydrangeas outdoors in pots.
How do you keep the Hydrangeas from wilting?
This is an essential information for you. Need to know that watering Hydrangeas in the mornings regularly can help prevent wilting. There are some varieties of hydrangeas cannot handle the heat. It will not matter how much water you give them. They are going to wilt a bit in the heat of afternoon. A thick layer of mulch will be able to help retain moisture and keep soil cool. If your Hydrangeas perk back up after the day begins to cool, you do not need to worry. It is better to have a little mid-day wilting than to overwater and drown your Hydrangeas. Or else commonly you will face hydrangeas that has yellowing leaves, how to fix them? More info : what causes hydrangeas leaves to turn yellow and how to fix it.