Mums and Chrysanthemums, are They Same?
You may be a bit confused between the term 'Mums' and 'Chrystanthemums'. Do you think that 'Mums' and 'Chrystanthemums' are different? You're totally wrong, as both are the same at all. The term 'Mums' is short for 'Chrystanthemums' that indicates the largest commercially grown flowers in the United States.
So, if you find both terms, it surely refers to the same plant of a flower. As you already know that the term 'Mums' and 'Chrystanthemums' are the same, it's a great time for you to learn more about these flowers through our post below!
Characteristic of Chrysanthemums
'Mum' or 'Chrysanthemums' is known as a member of the Asteraceae family. This flower is also associated with zinnias, sunflowers, dahlias, cosmos and marigolds.Chrysanthemums is also a kind of a flower that is associated with autumn.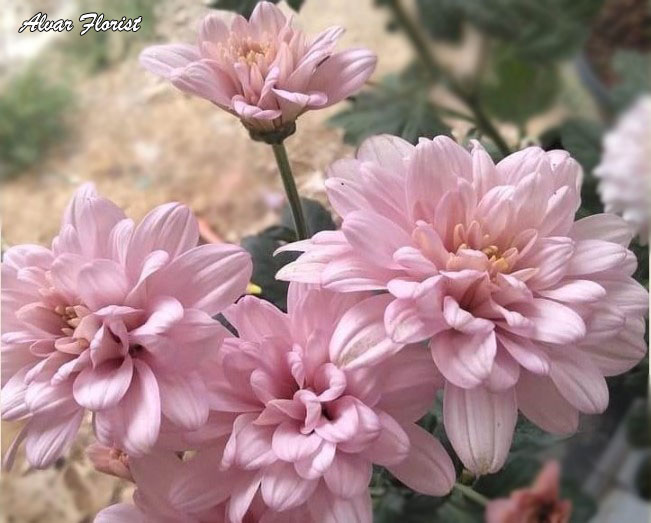 Chrysanthemums love to grow in full sun with moist and well-drained soils that have been mixed with compost and other organic matter. It generally will grow well to a width and height of 1 to 3 feet. Aside from that, you can also start growing 'Mums' indoors from seed 6 to 8 weeks, before last spring frost date.
Moreover, 'Mums' prefer a cool to mild climate and protected spot from wind, though they can also grow well in the subtropics. If you grow them specifically to use for cut flowers, you can then space them around 60 – 75 cm apart.
In order to get the best results, you should choose a spot in full sun away from big shrubs and trees. Sure, giving liquid fertilizer regularly is a must for you. It's highly recommended for you to fertilize Chrysanthemums regularly every four to six weeks. You may also need some organic and slow-release fertilizer to plant 'Mums'.
Chrysanthemum Flower Facts
Chrysanthemums were initially cultivated in China as early as 15th century B.C. At that time, 'Mums' were used as the herbs where the roots and leaves were eaten. This flower then migrated to Japan several countries later and grew well in the temperature climates of Asia.
Today, you can find that Chrysanthemums are a common fall garden sight and also a gift plant. One interesting information about Chrysanthemums is that this flower is known as a death flower where it is laid over graves.
However, the Chrysanthemum Community objects that Chrysanthemum is used as a symbol of death, considering there are so many types of Chrysanthemums spreading over the world. They think that Chrysanthemums will require a special classification system to make it more meaningful, not just a symbol of death.
Certainly, that is depending on what Chrysanthemums have some unique facts. Additionally, the petals of Chrysanthemum are definitely florists with both sexual parts. According to some research, Chrysanthemums have a certain meaning, based on their colors. Generally, Chrysanthemum symbolizes joy, optimism, fidelity, and longevity. In this case, a variety of  Chrysanthemum colors will also symbolize other meanings.
In this case, yellow Chrysanthemums symbolize sorrow or neglected love, red Chrysanthemums symbolize love and white Chrysanthemums symbolize devoted love and loyalty.
Planting Chrysanthemums, How to Do it!
If you have a plan to grow Chrysanthemums, you should know which is the best area to make it grow well. In the case of planting Chrysanthemums, make sure to grow it in a full sun area with moist and well-drained soils. Before starting to plant this flower, you need to mix the soil with compost and other organic matter.
When you want to plant the Chrysanthemums in the garden, make sure to choose the right variety of this flower first. You can also plant this flower in a pot which may also be worthwhile for a gardener.
In case of planting Chrysanthemums, you may even find the flowers which are giant or dwarf with a selection of color from yellow and white to deepest purple and burgundy. For more information, some cultivars probably will bloom in late summer, while others may bloom as late as October.
In order to get the best result, make sure to choose a right spot with full sun away from trees and big shrubs. Talking about soil, it's highly recommended for you to grow this flower in most and well-drained soil. Don't leave the flower in too wet soil, as it will rot.As a best trick, you can add aged manure or compost to the soil.
Tips and Tricks in Planting Chrysanthemums
Here are a number of tips and tricks that you can take to plant Chrysanthemums:
Know the best environment
Be sure to know the conditions as well as the right environment for Chrysanthemums. You should know that this flower tends to prefer cold to warm environmental conditions. If the environmental conditions where the chrysanthemums tend to be hot, then it is possible that the flowers will wither.
Determine the right time to plant Chrysanthemums
Choosing the right time to plant chrysanthemums is a must. That's because Chrysanthemums are included in the flowers that bloom in autumn. If the Chrysanthemum flower that will be planted already has flowers or petals, just move it to a pot with a little soil added3. Always pay attention to plant spacing
Always give space between plants
You may know that Chrysanthemums come in many attractive colors, including classic yellows, purples, reds, whites and oranges. In order to thrive, you need to pay attention to the air circulation in each Chrysanthemum plant.
You should always pay attention to the distance of Chrysanthemum plants in the yard of the house. This is so that there is no competition between plant roots in absorbing water and other nutrients.
Methods of watering and fertilizing
It is highly recommended for you to water chrysanthemums 1 time a day in the morning so that they are fertile. Make sure not to get stagnant water, because it will cause the plant roots to rot.
In order  to grow well, you need to care for Chrysanthemums. You also need to fertilize, In addition to watering. We recommend using fertilizers made from organic materials. This is so that the planting media is not contaminated with chemicals.