How to Keep Away of Morning Glory Plant from Disease
Morning Glory plants included to perennials plant, this flower has funnel shaped fragrant that grow from a vine and come in some bright colors such as purple, pink, blue, and white. This beautiful flower usually open at the first sunlight and last throughout the day. But, sometimes, flower can suffer problems.
Keep Away of Morning Glory Plant from Disease & Insects
Some garden pests, including aphids and leaf miner, are found attacking Morning Glory plants. Please watch closely and take the following steps to keep Morning Glory plants from Disease and insects.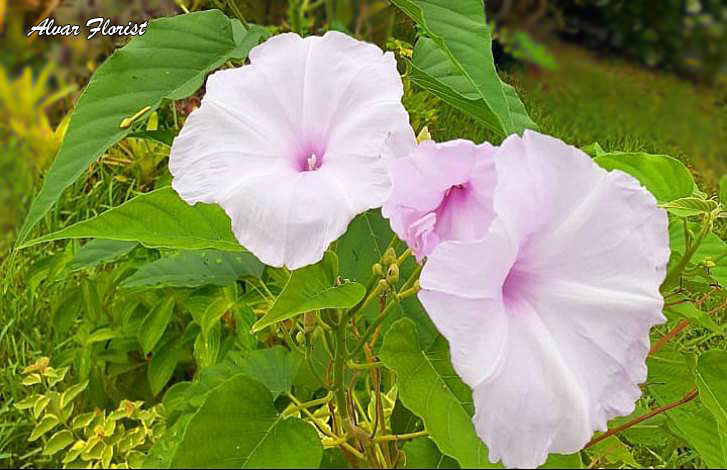 Firstly, you have to remove weeds and other garden debris to eliminate alternate hosts.
After that, discard severely infested plants by securely bagging and putting in the trash.
You have to spot treat pest issues areas with neem oil or other organic pesticide.
Usually, foliage and flowers are susceptible to fungal issues including rust and Fusarium wilt. To reduce these diseases:
You have to avoid overhead watering whenever possible.
Properly space the plants to improve air circulation
You have to apply copper or sulfur sprays to prevent further infection
If issues persist, you have to remove and discard infected plants
Morning Glories diseases
A fungal disease named rust is another culprit of yellowing leaves. To diagnose whether your Morning Glory plants have rust or not, you are able to look closely at the leaves. There are going to be powdery pustules on the backside of the leaf. They are what cause the leaf of Morning Glory to turn yellow or orange. To prevent this from happening, you do not overhead water your Morning Glory plants and remove any infected leaves. For your information, Canker is a disease which causes the stem of the Morning Glory plants to be sunken-in and brown. This wilts the ends of the leaves and then spreads onto the stem. This is a fungus that, if not taken care of, will be able to affect the whole plant. If you suspect that your Morning Glory plants have this fungus, simply you are able to cut away the infected vine and dispose of it.
Problems with Morning Glory Pests
This vines can be infested with the pests such as the cotton aphid, the leafcutter and the leaf miner. Usually, the cotton aphid likes to attack the Morning Glory plants in the morning. The color of this insect is yellow to black. You are able to find them in masses on your leaves of Morning Glories. While the leaf miners do just that, it mines or bores holes into the leaves of Morning Glories. The leafcutter or known as green caterpillar severs the stalks of the leaves and causes morning glory to wilt. Usually, this pest likes to do his damage at night. Use an organic pest control and also keeping your plant as healthy as possible is the method to rid your Morning Glory plants of these pests.
Spider Mites
Usually, Spider mites are visible as tiny red or orange dots. They are able to harm plants, including Morning Glories. The Spider mites are true spiders, with web-spinning abilities. Spider mites used to live in colonies on the undersides of foliages. They damage Morning Glory plants by sucking vital juices out of the foliage. The presence of webs or filaments is the easiest method to find spider mites. They are able to be removed by a strong spray from the garden hose. If that does not work, a targeted application of ready-to-use insecticidal soap will assist eradicate the spider mites. For note: Do not apply the soap when the temperature exceeds 90 degrees Fahrenheit.
Environmental problems with Morning Glory plants
Usually there is a sign that something is not right with your Morning Glory plant, when the leaves of Morning glories turning yellow. Insufficient sunlight is able to be a cause of yellowing leaves, because Morning Glory plants need full sun to flourish. By transplanting your Morning Glory plant to a sunnier area in your garden or trim any Morning Glory plants that are blocking the sun can be the best remedy to this issue.
Another cause of Morning glories turning yellow is either under watering or over watering. After your morning glory has been watered, you are able to let the soil dry before re-watering. For your information, Morning Glory plants do well in USDA plant hardiness zones 3-10, please be sure that you are in one of these zones for the best results.
Over-Fertilization
Conspicuous lack of flowers can be one situation that may mimic the effect of Morning Glory plant disease. If this is coupled with an abundance of foliage, the issue is typically over-fertilization. Unlike some other annual vines, Morning Glory plants are not heavy feeders. They prefer soil that is a bit lean. Don't give them too much fertilizer because it will stimulate the Morning Glory plants to work overtime and produce leaves at the expense of the flowers which are the glory of the Morning Glory plant. So, if over-fertilization is the issue, cutting back or eliminating fertilizer will get Morning Glory flower production back to normal within a few weeks.
Cultural Considerations
Generally, aphids, mites, and other sucking insects will not kill a healthy and well-watered plant. So you have to grow Morning Glory plants in full sun area and well-drained soil. One of the best methods to keep pests and diseases at bay is to practice IPM (integrated pest management). This strategy involves garden ecosystems to function effectively by utilizing good cultural practices, organic nutrients and minimal amounts of garden chemicals. Under an IPM system, diseases will be able to blemish plants, however will generally not kill them. Natural predators are going to take care of insect pests.
Well, the text above is an explanation about how to keep Morning Glory plants from disease and insects. Read other articles on our site to get more information about Morning Glory plants.