How to Grow Bougainvillea Very Effectively
Bougainvillea is an ornamental plant that thrives in tropical areas which have very charming flowers because of their thin shape and various colors. It is very suitable to be used as an ornamental plant in your yard. They can grow to several meters in height if planted in the yard or outside land but if planted in pots they can reach about 1 meter in height.
If you are looking for a suitable type of plant to decorate your balcon or home page, Bougainvillea can be your first choice because the branches of this flower can be arranged by us as you wish to beautify the place you want. Maintenance is also relatively easy and withstands all weather.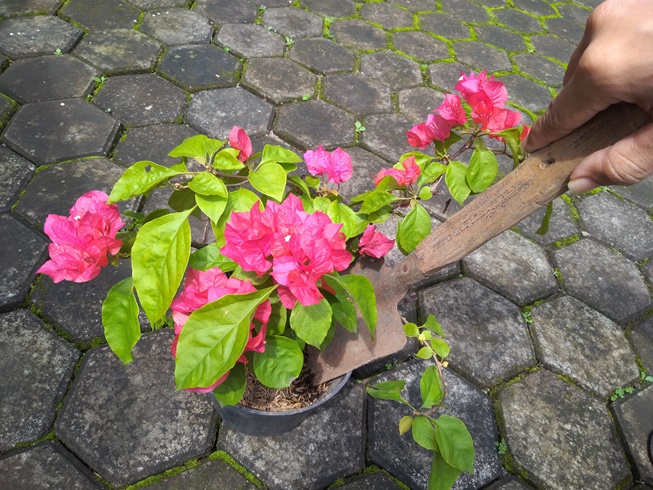 This flower is commonly found along roadsides, city parks, home yards and other places as ornamental plants. For those of you who want to make it an ornamental plant at home, both in the yard or pot, you can follow these following things.
How to grow Bougainvillea flowers easy and correctly
The main requirement for growing Bougainvillea is in the lowlands with an altitude of about 3000feet. But if you want to plant it, you can prepare soil that has been mixed with manure, to keep moisture and avoid soil compaction, you can add raw rice husks with a ratio of 1: 1: 1.
Provide a suitable container with a diameter of at least 15inches if you plant it in a pot of this size the buegnvil will grow easily. It's different if you want to plant it in the yard. You only need to hoe the soil first so that it is loose before planting.
Bougainvillea grows best when it placed in direct sunlight. If you put it under indirect sun or in a shady area, or else the area that has high of humidity it will be difficult to grow.
Give them natural fertilizers, such as Monosodium Glutamate which is proven to be effective in fertilizing plants, preventing leaf loss, accelerating the growth of flowers because Monosodium Glutamate also contains potassium and sodium.
Watering twice in a day, do not too much water. Just water it until the soil looks moist because it is feared that it will interfere with the nutrient absorption system in the soil which will cause rot or not develop as our expectation.
If this plant is seen to grow irregularly tall, then it's a good idea to always prune this plant periodically so that it can grow thick and look beautiful. Just cut off the part of the stem that is too long. Be careful when you do this so it looks good.
Usually Bougainvillea will grown and has flower which will begin to bloom when it is lack of water for about 3-4 days without wate?. Well, this is the thing you've been waiting for isn't it? When we take care of plants with all our heart, the results obtained will be as expected. On the other hand, even though the area to grow is suitable, if you do not give them the treatment, the results will not be good, instead it will cause it to dry out, wither, and even die.
For those of you who love Bougainvillea and plan to have them at home, here are several types of Bougainvillea flowers that you can choose:
Bougainvillea Cherry Blossom
Bougainvillea Barbara Barst
Bougainvillea Afterglow
Bougainvillea Bambino Baby Lauren
Bougainvillea California Gold
That's a glimpse of information you are getting to know and how to plant Bougainvillea. Hopefully the information above can help.
Happy planting!